WATER  STATION  CALENDAR  OF  RUNS  FOR  THE YEAR  2014
 Mark your calendar and come and join us for "FUN UNDER THE SUN"    
 2014 is our 15th year of volunteer work in the desert.
<![if !vml]>
<![endif]>        <![if !vml]>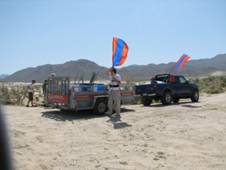 <![endif]> 
     2014 WATER  STATION  KICK  OFF  March 29th!
Saturday March 29    Install WaterStations and start the years work in the desert.
To install the water stations we need lots of help!
Saturdays April 12th and April 26th
Saturdays May 10th and May 24 th
Saturdays  June 7th and June 21nd
Saturdays July 5th, and July 19th
Saturdays August 2nd,  August 16th and August 30th
Saturdays  September 13th and Saturday September 27th
Saturday October 11th,
                          2014 WATER  STATION  PICKUP and WRAPUP  October 25th 
Saturday October 25th  Pickup and store all Water Stations for the winter.
Wrapping up our seasons work.   
If wish to make a tax deductible donation send check or money order to:
                                    WATER  STATION   P O Box 2683 Escondido, CA 92033
          Using PayPal to make a donation.  See our Donations page.
 <![if !vml]>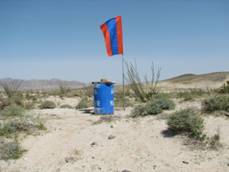 <![endif]>   <![if !vml]>
<![endif]>   
Our place to meet: "The Old Highway Café" at 8:00 AM in Ocotillo, just off Interstate 8, at Imperial Highway, the only exit in Ocotillo.  For more information call Laura Celina Hunter cell number (619) 318-0371 We are on Facebook: look us up under Laura Celina Hunter and Water Station.